Armstrong Whitworth AW 27 Ensign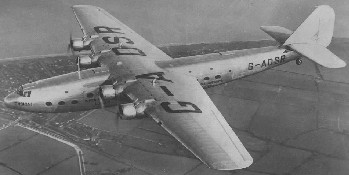 In 1934 the British government decided that all first-class mail for the Empire would in future be sent by air, and Imperial Airways therefore needed larger aircraft on its South African and Australian routes. Although most of the requirements were to be met by Short flying boats, a new four-engine landplane was needed for European and Eastern routes.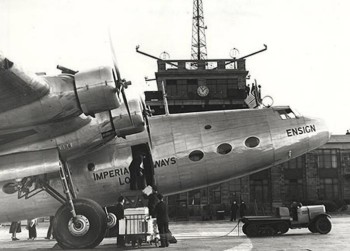 A specification was issued in May 1934 by the airline to Armstrong Whitworth and the result was the A.W.27 Ensign, the first of which was ordered in September 1934 at a price of £70,000; delivery was to take place within two years and in May 1935 a further 11 were ordered at £37,000 each. The price differential was accounted for by design and initial manufacture changes for the first aircraft. A final two were ordered in January 1937, raising overall Ensign production to 14 aircraft.

As Armstrong Whitworth was busy with Whitley bomber production at its Coventry factory, the airliners were assembled in the Air Service Training workshops at Hamble. Constant detail changes in the design and construction periods were required by Imperial Airways (a pattern subsequently repeated post-war by BOAC with certain airliners), with a result that the first Ensign was almost two years late, making its first flight from Hamble on 24th January 1938.

Subsequent tests at Martlesham Heath in June 1938 showed that the aircraft was underpowered and a number of minor problems also occurred, but a certificate of airworthiness was issued. The following month the first aircraft flew a Croydon to Paris trip, but proper services did not begin on the route until October. Just prior to Christmas 1938, three more aircraft had joined the first and left the UK as relief aircraft, carrying Christmas mail to Australia. All three became unserviceable, one at Athens, one at Karachi and another in India. The type was subsequently withdrawn and returned to the manufacturers for performance and reliability up grading.
A modest increase in performance was achieved by fitting the more powerful Armstrong Siddeley Tiger IXC engines to the sixth aircraft, and in spite of problems the Ensign fleet served the airline's European routes; 11 had been delivered by the outbreak of war. Two configurations were in use: four aircraft (named 'Eddystone', 'Ettrick', 'Empyrean' and 'Elysian') were the European type with seats for 40 passengers, while the other seven ('Ensign', 'Egeria', 'Elsinore', Euterpe', 'Explorer', 'Euryalus' and 'Echo'), intended for the Empire routes, carried 27 passengers in three cabins or, alternatively, sleeping berths for 20. The twelfth A.W.27 ('Endymion') received its certificate of airworthiness in October 1939, and the fleet was evacuated to Bristol's Whitchurch airport along with a number of other airliners. Camouflage was hastily applied, and the A.W.27s operated a twice-daily service between Heston and Paris (Le Bourget).

When BOAC was formed in November 1939 by the merger of British Airways and Imperial Airways, ownership of the A.W.27s passed to the new company. Wartime service soon began to take its toll, and 'Elysian' was destroyed on the ground at Merville on 23rd May 1940. Others followed, 'Ettrick' being abandoned at Le Bourget (it was subsequently repaired and used by the Germans with Daimler-Benz engines) and 'Endymion' destroyed at Whitchurch in an air raid in November 1940.

A final two A.W.27s, on which construction had been halted, were subsequently completed in 1941. Named 'Everest' and 'Enterprise', they were fitted with Wright Cyclone GR-1820 engines of 950 hp (708 kW) each, providing an extra 400 hp (298 kW) in all compared with the earlier Tigers, and in this form the type was designated A.W.27 Ensign 2. The remaining eight Mk 1s were also re-engined, and with the extra power were considered suitable for hot climates. Used between West and East Africa and Egypt, the A.W.27s were hard pushed, and since their American engines were out of production, they were difficult to maintain.

In the face of mounting problems it was decided to bring the survivors home, and seven ('Egeria', 'Elsinore', 'Explorer', 'Eddystone', 'Empyrean', 'Echo' and 'Everest') were scrapped at Hamble in 1947. 'Enterprise' had been abandoned in West Africa during 1942, was salvaged by the Vichy French and, like 'Ettrick', was eventually re-engined and flown by the Germans. The original 'Ensign' had been damaged at Lagos in 1943 and was scrapped in 1945, while 'Euterpe' and 'Euryalus', damaged at Almaza and Lympne respectively, were cannibalized for spares.

'Eddystone' was the last flying A.W.27, returning from Cairo to Hurn in June 1946.




Ensign II G-ADSV 'Explorer' on wartime service with BOAC at Takoradi, West Africa

variants

A.W.27 Ensign Mk 1: Retrospective designation of the initial 12 aircraft fitted with Armstrong Siddeley Tiger radials.

A.W.27 Ensign Mk 2: Designation of the last two aircraft, built with four 950 hp (708 kW) Wright Cyclone GR-1820-G102A radial piston engines; eight Mk 1 aircraft were subsequently upgraded to Mk 2 standard; maximum speed 210 mph (338 km/h), cruising speed 180 mph (290 km/h), service ceiling 24,000 ft (7315 m), range 1,370 miles (2205 km), empty weight 36,586 lb (16,595 kg) and maximum take-off weight 55,500 lb (25,174 kg).


specifications

Power Plant: Four 850 h.p. Tiger IXC (Mk.I)
Four 950 h.p. Wright Cyclone (Mk.II)
Span: 123 ft 0 in
Length: 111 ft 0 in
Height: 23 ft 0 in
Weight (All-Up): 48,500 lb (Mk.I) 55,500 lb (Mk.II)
Max Speed: 200 m.p.h. (Mk.I) 208 m.p.h. (Mk.II)
Cruise: 170 m.p.h. (Mk.I) 180 m.p.h. (Mk.II)
Stall Speed: 68 m.p.h.
Range: 860 miles (Mk.I) 1,370 miles (Mk.II)
Crew: 5
Passengers: 40 (Western) 27 (Eastern)
Cost: £37,000