Aeronca C2 / C3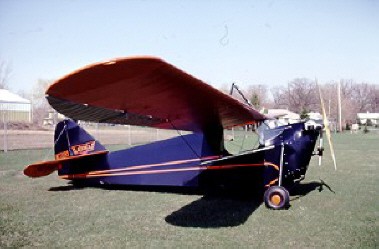 Designed By: Aeronautical Corporation of America, United States

Period: Interwar (1919-1938)

Uses: General Aviation

First Flight: October 20, 1929
The C-2 was designed to be a cheap and simple flying machine for the amateur pilot. Built at the beginning of the Great Depression, it appealed to those who could not afford larger more expensive airplanes because of its relatively low price. After the C-2 appeared at a Montreal air meet in 1930, the Aeronautical Corporation of Canada was formed in Toronto. This company imported and sold 17 C-2s and C-3s during the 1930s. Approximately 515 C-2s and C-3s had been made when production stopped in 1937.
A C-2 was flown higher than 6 000 m (20 000 ft), and one fitted with special fuel tanks remained aloft for 26 hours. The C-2 was dubbed the "flying bathtub" due to its unusual fuselage contour.
The C-2-N (above) is a development of the C-2 using the 36 hp E-113A engine replacing the original 30 hp E-107A. Four C-2-Ns were built and NC13089 is one of two remaining.
NC13089 set the following records:
Irene I. Crum - International Altitude Record 19,425.814 ft.

Howard C. Mayes Jr. - Altitude Record for Junior pilots 19,997 ft.

Benjamin King - 500 km speed record for single-seat light seaplanes 70.499 mph.

Benjamin King - Airline distance record for single-seat light seaplanes 230.314 mi.
Benjamin King - International Altitude Record, single-seat light seaplanes 15,081.976 ft.
Benjamin King - 100 km speed record, single-seat light seaplanes 80.931 mph.
Benjamin King - Airline distance record, light seaplanes 221.20 mi.
The engine is an early model E-113 and only has a single magneto ignition system. Later, Aeronca E-113 engines all featured dual magnetos as required by the new safety standards of 1938. It consumes about 3 gallons of gas per hour at cruising speed (85% power). The fuselage has welded steel tubing covered by fabric and the wings are fabric-covered spruce.
Specifications (C2)
Wing Span:

11 m (36 ft)
Length: 6.0 m (20 ft)
Height: 2.3 m (7 ft 6 in)
Weight, Empty: 184 kg (406 lb)
Weight, Gross: 317 kg (700 lb)
Cruising Speed: 105 km/h (65 mph)
Max Speed: 129 km/h (80 mph)
Rate of Climb: 137 m/min (450 ft)


Service Ceiling: 5,030 m (16,500 ft)


Range: 322 km (200 mi)


Power Plant: one Aeronca E-113, 36 hp, horizontally opposed engine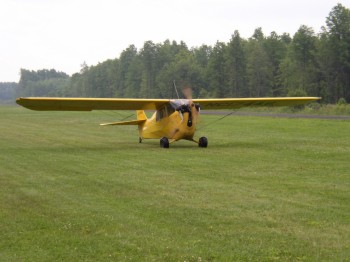 C3
The more powerful Aeronca C-3 was introduced in 1931, featuring room for a passenger seated next to the pilot. Powered by a new 36-horsepower (27-kilowatt) Aeronca E-113 engine, the seating configuration made flight training much easier and many Aeronca owners often took to the skies with only five hours of instruction—largely because of the C-3's predictable flying characteristics. Both the C-2 and C-3 are often described as "powered gliders" because of their gliding ability and gentle landing speeds—it was almost impossible to make a hard landing with an Aeronca because the pilot could easily see his wheels approach the runway.
The C-3's distinctive razorback design was drastically altered in 1935 with the appearance of the "roundback" C-3 Master. Retaining the tubular fuselage frame construction, the C-3 Master featured a smaller vertical stabilizer and rudder with a "filled out" fuselage shape that created the new "roundback" appearance and improved the airflow over the tail. With an enclosed cabin (brakes and wing light still cost extra), the 1935 C-3 Master was priced at only $1,890—just a few hundred dollars more than the primitive C-2 of 1929. The low price generated significant sales; 128 C-3 Masters were built in 1935 alone and the 500th Aeronca aircraft also rolled off the assembly line that same year.
A version of the C-3 with fabric-covered ailerons (instead of metal), designated the Aeronca 100, was built in England under license by Light Aircraft Ltd. (operating as Aeronautical Corporation of Great Britain Ltd.) but the expected sales never materialized—only 24 Aeronca 100s were manufactured before production was halted.
Production of the C-3 was halted in 1937 when the aircraft no longer met new U.S. government standards for airworthiness. Many of the C-3's peculiarities—external wire braces, extensive fabric construction, single-ignition engine, and lack of an airspeed indicator—were no longer permitted. Fortunately for the legion of Aeronca owners, a "grandfather" clause in the federal regulations allowed their airplanes to continue flying, although they could no longer be manufactured.