Boeing 247

The Boeing Model 247 was a good airplane but, its capacity proved too small and its passengers found it awkward to step over the main spar in the aisle.
The year 1933 was extremely important in the history of air transport for it was then that the two original ancestors of the modern airliner appeared. One was the Douglas DC-1, which first flew in July, and the other was the Boeing Model 247, which first flew as a prototype on February 8,1933.

Although later developments of the Douglas aircraft were to become the most widely used of the early modern airliners, it was the Boeing 247 that pioneered the whole new generation of transports. It was a good airplane, and bought by United Airlines and other U.S. carriers, but its capacity proved too small and its passengers found it awkward to step over the main spar in the aisle. Around seventy-five Model 247s were built for customers in the US and abroad, including Lufthansa of Germany a creditable total for any aircraft of the thirties.
Early route flying after the First World War convinced airline operators that multi-engined aircraft were preferable for flying long distances and across water, in terms of both economy and safety. However, while huge lumbering biplanes were still the vogue, the Boeing company designed the Model 247 as a new ten-passenger aircraft of revolutionary concept. The all-metal airframe was well streamlined, with low monoplane wings, a smooth oval semi-monocoque fuselage, neatly cowled twin engines, and an enclosed cockpit for the pilots. The undercarriage was retractable, giving the aircraft a maximum speed of over 290 km/h (180 mph). This was far higher than the speed of contemporary biplane airliners, rivalling the performance of military fighters of the day.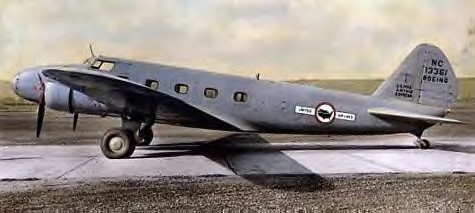 The 247 was an immediate success and the first production aircraft were quickly followed by the refined Model 247D. But destiny still held further success for the airliner. Many great aircraft built between the wars were evolved to take part in air races; such contests were also excellent proving grounds for new or established production types. So, when the MacRobertson Race from England to Australia was organized in 1934, a Boeing Model 247D was entered. Flown by Col. Roscoe Turner and Clyde Pangbourne, it gained second place in the transport section, behind its great rival the DC-2.
Specifications:
Boeing Model 247
Dimensions:
Wing span:
74 ft (22.6 m)
Length:
51 ft 7 in (15.7 m)
Height:
12 ft 6 in (3.8 m)
Wing Area:
836.44 sq ft (77.70 sq m)
Weights:
Empty:
8,940 lb (4,055 kg)
Gross T/O:
13,650 lb (6,192 kg)
Performance:
Maximum Speed:
200 mph (322 km/h)
Service Ceiling:
25,400 ft (7,740 m)
Rate of Climb:
1,150 ft (350m)/min
Normal Range:
800 miles (1,297 km)
Powerplant:
Two Pratt & Whitney Wasp S1H1-G, 550 hp, 9-cylinder radial engines.