Boeing Model 40A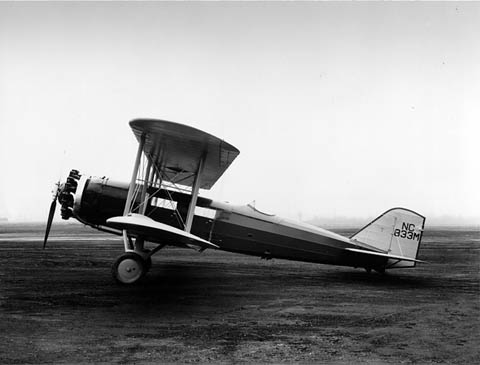 This fabric-covered mail plane was the first Boeing commercial success. Built in 1927 (the year Charles Lindbergh crossed the Atlantic), it carried mailbags and-load permitting-two passengers.
The Model 40A used an air-cooled Pratt & Whitney Wasp engine that was about 200 pounds lighter than the water-cooled engines used to power its competitors. The biplane used welded-steel tubing throughout its fuselage but could still carry a heavier load and was less expensive to operate.
It was the first Boeing airplane to carry passengers, with room for two people in a tiny cabin, as well as cargo space for mail. Twenty-four of the mail planes built were ready to fly July 1, 1927, for their first day of airmail service between San Francisco and Chicago. The 25th was delivered to Pratt & Whitney as a flying test bed.
| | |
| --- | --- |
| First flight: | May 20, 1927 |
| Model number: | 40A |
| Classification: | Commercial transport |
| Span: | 44 feet 2 inches |
| Length: | 33 feet 2 inches |
| Gross weight: | 6,000 pounds |
| Top speed: | 128 mph |
| Cruising speed: | 105 mph |
| Range: | 650 miles |
| Ceiling: | 14,500 feet |
| Power: | 420-horsepower P&W Wasp engine |
| Accommodation: | Pilot, 2 passengers, 1,200 pounds of mail |