Boeing Model 80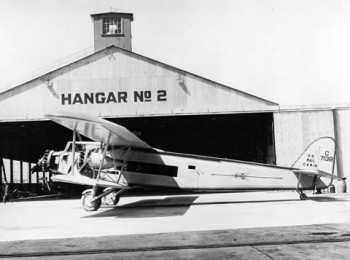 With seating for 18 passengers, this fabric-covered transport of 1929 was an enlarged version of the Model 80 - the first true Boeing passenger airliner - of the year before.
In 1928, Boeing introduced America's first airliner designed specifically for passenger comfort and convenience. The Model 80's fuselage was made of welded-steel tubing covered with fabric, and its wooden wingtips were removable so the airplane could fit into the primitive hangars along its route.
Despite complaints by pilots accustomed to flying in an open cockpit, the size of the Model 80 required a separate, enclosed flightdeck. The Model 80 carried passengers in a spacious cabin appointed with leather upholstery, reading lamps, forced-air ventilation, and hot and cold running water. The first version carried 12 people, and it was followed by the larger, 18-passenger Model 80A, which made its first flight, Sept. 12, 1929. Ten Model 80As flew for the Boeing airlines.
Ellen Church, a registered nurse, convinced Boeing managers that women could work as stewards, so nurses serving aboard the Model 80A became aviation's first female flight attendants. They earned $125 for flying 100 hours a month.
| | |
| --- | --- |
| First flight: | July 27, 1928 |
| Model number: | 80A |
| Classification: | Commercial transport |
| Span: | 80 feet |
| Length: | 56 feet 6 inches |
| Gross weight: | 17,500 pounds |
| Top speed: | 138 mph |
| Cruising speed: | 125 mph |
| Range: | 460 miles |
| Ceiling: | 14,000 feet |
| Power: | Three 525-horsepower P&W Hornet engines |
| Accommodation: | 3 crew, 18 passengers, 898 pounds of cargo |