Douglas Skymaster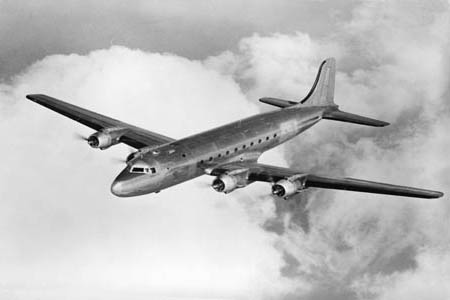 Douglas decided to produce a four-engine transport about twice the size of the DC-3 and, in 1938, developed the single DC-4E to carry 42 passengers by day or 30 by night. It had complete sleeping accommodations, including a private bridal room.
It proved too expensive to maintain, so airlines agreed to suspend development in favour of the less complex DC-4, but it was not put into commercial service until 1946. Its military derivative was the C-54 "Skymaster" transport, ordered by the U.S. Army Air Forces in 1942.
Douglas built 1,241 of the DC-4s and its military counterparts. During the war, C-54s flew a million miles a month over the rugged North Atlantic - more than 20 round trips a day. A special C-54C, nicknamed the "Sacred Cow" by the White House press corps, became the first presidential aircraft, ordered for Franklin D. Roosevelt.
In the years immediately following the war, new DC-4s and used C-54s carried more passengers than any other four-engine transport. Some were still flying through 1998.
After World War II, commercial airlines placed more than 300 civilian DC-4 transports into service.
| | |
| --- | --- |
| Wingspan: | 117 feet 6 inches |
| Length: | 93 feet 5 inches |
| Height: | 27 feet 7 inches |
| Operating Altitude: | 10,000 feet |
| Range: | 4,200 miles |
| Weight: | 82,500 pounds |
| Power plant: | Four 1,450 horsepower Pratt & Whitney R-2000 "Twin-Wasp" engines |
| Speed: | 207 mph |
| Accommodation: | 44 to 80 passengers |