Short Mayo Composite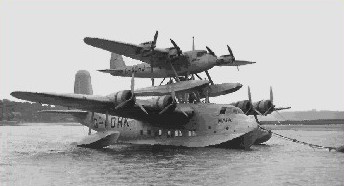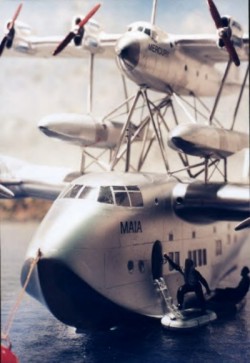 The Short-Mayo Composite was the brain child of Major Mayo of Imperial Airways. The thinking was that an aircraft was limited by the payload when it took off, therefore if the upper component was 'overloaded' on take-off, and it took off on the back of a mother or carrier aircraft the payload and/or range would be increased. The concept was tested by modifying the design of an Empire class flying boat (Maia, which had an increased beam, thus increasing the planing surfaces, and increased span centre section, so that the propellers of Maia cleared the floats of Mercury), to lift a specially designed float plane (Mercury).

In operations the concept was flown by Captain Don Bennett, who was later to achieve further fame with the RAF Pathfinders. The long range concept was proven with non-stop flights from Britain to Canada, and to South Africa. Mercury still holds the world distance record for floatplanes. Sadly the aircraft were lost during World War II.
Mercury (S.20)

Power Plant: Four 340 h.p. Napier-Halford Rapier V
Span: 73 ft 0 in
Length: 51 ft 0 in
Weight (All-Up): 15,500 lb
Speed: 212 m.p.h.
Range: 3,900 miles
Crew: 2
(For Composite launching the max weight of Mercury was 20,800 lb.)

MAIA (S.21)

Power Plant: Four 875/915 h.p. Bristol Pegasus X
Span: 114 ft 0 in
Length: 84 ft 11 in
Weight (All-Up): 38,000 lb
Max Speed: 200 m.p.h.
Range: 850 miles
Crew: 5
Passengers: 24 (day) (sleeping accommodation of 16 at night)
(For Composite launching the max weight of Maia was limited to 27,700 lb.)
manufacturer

Short Brothers (Rochester & Bedford) Ltd

First Flight:

27 July 1937

Lower component (Maia):

1 - Shorts, Rochester

Upper component (Mercury):

1 - Shorts, Rochester

Type Specification

Applies to:

Shorts Mayo Composite

Type:

Composite aircraft to design of Major Mayo, comprising lightly loaded launch aircraft and highly loaded mailplane which was released at cruising height

Wing:

Both components - High wing cantilever monoplane of all metal construction

Hull:

Lower component - All metal hull with two step planing bottom
Upper component - All metal fuselage

Tail Unit:

Both - Cantilever type tailplane with single fin and rudder

Landing Gear:

Lower - None
Upper - Twin floats under inboard engines

Power Plant:

Lower - Four 900 hp Bristol Pegasus XC 9 cylinder radial air cooled engines on wing leading edge
Upper - Four 365 hp Napier-Halford Rapier VI 16 cylinder air cooled engines on wing leading edge

Accommodation:

Lower - Flight crew of three. Cabin for up to 18 passengers
Upper - Crew of two

Dimensions

Span:

Lower - 114 ft
Upper - 73 ft

Length:

Lower - 84 ft 11 in
Upper - 51 ft

Wing Area:

Lower - 1,750 sq ft
Upper - 611 sq ft

Weights

Empty:

Lower - 24,745 lb
Upper - 10,163 lb

All-up:

Lower - 38,000 lb
Upper - 26,800 lb

Performance

Max Speed:

Lower - 200 mph
Upper - 212 mph

Ceiling:

Lower - 20,000 ft

Range:

Lower - 850 miles
Upper - 6,100 miles (after composite launch)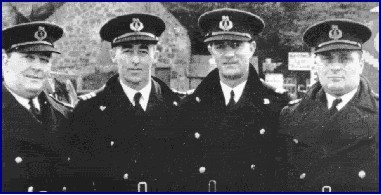 The crews of Maia and Mercury at Dundee.

Left to right: Captain A.S. Wilcockson (in command of Maia) Captain D.C.T. Bennett (captain of Mercury) First Officer Harvey (Mercury) First Officer B. Frost (Maia)