Stinson Detroiter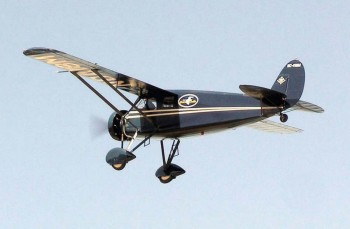 Edward A "Eddie" Stinson, master aviator, proudly introduced the first of these "Detroiter" biplanes on a flight from Selfridge Field, Michigan, on Jan. 25 in 1926. It was a trim, fully enclosed cabin biplane with seating for 4 and was powered with a Wright "Whirlwind" of the popular "J4 series". This airplane, shown here, was the culmination of much planning, and with the gracious help of Alfred Verville, it was planned to incorporate some very advanced ideas for these times. Fred Verville, generous of heart and willing to share his tremendous experience and knowledge in aircraft design, helped "Eddie" Stinson through the rough spots in the design, of this first "Detroiter". Among some of the more outstanding features built into this airplane, were individual wheel brakes, and emergency parking brake, an electric engine starter to eliminate "propping" by hand. The fully enclosed cabin had a fairly efficient exhaust-manifold type heater which kept it reasonably cozy inside. "Eddie" just loved to show the "Detroiter" off and spent considerable time demonstrating it's features and abilities. Though it was a cold winter in Michigan, he often flew in shirt-sleeves to prove his ship's comfort and utility. Needless to say, "Eddie's" enthusiasm and his countless demonstrations were effective and it went over big! Quite a few men of "big business" were favourably impressed and became interested in the airplane's future. Shortly thereafter, the Stinson Airplane Corporation was formed in Detroit to begin it's manufacture. Stinson acquired buildings for the Northville plant (a suburb out of Detroit) in May of 1926, and the first production model was produced in August. With a few more ideas always up his sleeve, Stinson had immediately laid plans for an improved mode, so in Aug. of 1926 a new "Detroiter" biplane was introduced; with some modifications that were definite improvements. The new model had a much deeper and better faired fuselage with an improved tail-group; the power plant was still the reliable J4 and all-round performance was a good bit better.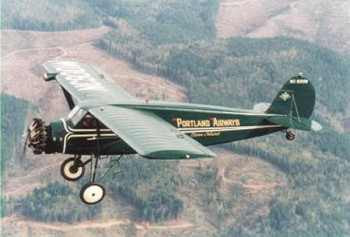 This model soon proved itself popular as a passenger and mail carrier on some of the early air-lines such a Florida Airways and Northwest Airways, and also served double duty by hauling passengers and all sorts of cargo with Noel Wien in Alaska and Patricia Airways in Canada, to name a few. Northwest Airways started scheduled passenger service with their "Detroiters", one is shown here, in July of 1927 and were of the first to offer air-travel in cabin comfort in the U.S. The "Wayco Air Service" formed by Ed Schlee and his brother, were operating an air-taxi-service out of the Detroit area in May of 1927, using two "Detroiter" biplanes; one of these is shown here. TheSB-1 was also very popular as a personal transport plane and was used by numerous business executives.
Two "Detroiters", only slightly modified, were used by Geo. Hubert Wilkins on his Arctic exploration expedition of 1927; after many successful sorties, on crash-landed on the Arctic ice and had to be abandoned, the other one was later sold in Alaska for "bush flying" duty. A "Detroiter" cabin biplane was flown by "Eddie" Stinson in the 1926 Ford Air Tour and finished in 3rd place amongst a stellar field of tough competition.
One of the illustrations pictures here a classic incident that shows the first "Detroiter" biplane crashing through a hot-dog stand, this was the incident that motivated the perfection of an emergency parking brake! As the story goes, "Eddie" was forced to "prop" by hand so he left his passenger inside to mind the throttle; when the engine started off with a roar, the excited "throttle-watcher" instead of reducing the r.p.m., shoved the throttle to wide-open and that's when plane met the hot-dog stand! "Eddie" was out a good propeller and some cash for the damages to the stand. Needless to say, a parking brake was rigged up very soon afterwards.
The 1926-27 model of the SB-1 is pictured here in various views, a few of the later type were powered with the new "J5 Whirlwind" of 220 h.p. About 19 of the "Detroiter" biplane were built in 1927; from August 1926 some 22 were built and sold in less than a year. The type certificate number for the "Detroiter" SB-1 was issued in Jan. of 1928 but this was more or less a token gesture because the "Detroiter" biplane had already been discontinued in favour of the "Detroiter" monoplane by this date. Production of the "Detroiter" biplane was discontinued in June of 1927. For accounts of the Stinson "Detroiter" monoplane, see chapter for ATC 16 in the volume. The Stinson Aircraft Co. at Northville, Mich, manufactured the "Detroiter" biplanes, all except the first one.
Listed below are specifications and performance data for the "Whirlwind" powered Stinson "Detroiter" biplane model SB-1; span upper and lower 35'10", cord both 63", wing area 350 sq. ft. airfoil U.S.A. 35B, length 28'10", height 10'3", empty wt. 1700, useful load 1200, pay load 600, gross wt. 2900 lb., max. speed 118, cruise 100, land 45, climb 800, ceiling 12,500 ft., gas cap. 70 gal., range 600 miles. The following wts. Were given for the later type that was powered with the J5 engine; empty wt. 1815, useful load 1465, payload 800, gross wt. 3280. The performance remained about the same with the possible exception of a landing speed of 48, and a climb, of about 750. The "manufacturers performance figures" differed somewhat from those shown; they were inclined to be optimistic in most instances. Price at the factory averaged around $11,000.
The fuselage framework was built up of welded chrome-molly steel tubing, faired to shape and fabric covered. The wing panels were built up of spruce spars and wood built-up ribs, also fabric covered. The fuel supply of 70 gal. was carried in two tanks that were mounted in the upper wing. The fabric-covered tail-group was built up of welded steel tubing, the fin was ground adjustable and the horizontal stabilizer was adjustable in flight. Wheel brakes, metal propeller, and engine starter, were standard equipment. The SB-1 was tested with pontoons and an experiment.
specifications

engine: WrightJ-5 radial 220 hp
cruise speed: 105 mph
range: 700 miles
fuel capacity: 90 gal
max speed: 122 mph
service ceiling: 14,000 ft
wing span upper: 45' 10"
gross weight: 3485 lbs
rate of climb: 750 ft/min
price: $12,500 at factory