de Havilland Rapide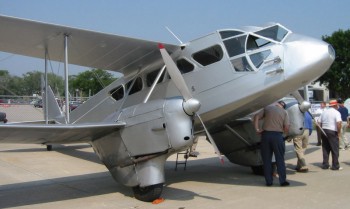 The De Havilland D.H.89 Dragon Rapide six/eight-passenger airliner was a scaled-down, twin engined version of the D.H.86 Dragon four-engined biplane airliner. The D.H.89 had a squarish section fuselage with large side windows, tapered biplane wings, and a trousered fixed undercarriage. Initially, it was powered by a pair of 200 hp De Havilland Gipsy Six six-cylinder air-cooled engines. The first prototype flew on April 17, 1934. The D.H.89 remained in production for ten years, a total of 728 being built. In its day, it was one of the most widely-used air transports in the world. Although officially known as the Dragon Rapide, it usually known simply as the Rapide.

The D.H.89 had a maximum speed of 157 mph, and a cruising speed of 132 mph. Initial climb rate was 1000 feet per minute, ceiling was 19,500 feet, and range was 578 miles. Weights were 3346 pounds tare, 5500 lbs. all-up. Dimensions were wingspan 48 feet 0 inches, length 34 feet 6 inches, height 10 feet 3 inches, and wing area 336 square feet.

The first British operator of the Dragon Rapide was Hillmans Airways Ltd., making its debut with that airline on July 13, 1934. Railway Air Services Ltd. operated D.H.89s on trunk route between Croydon, Speke, Renfrew, and Belfast, and for summer services between Speke, Whitchurch, Eastleigh, and Shoreham. Two Dragon Rapides were acquired by Jersey Airways Ltd.

The 1936 Dragon Rapide had a nose landing light, thickened wingtips, and cabin heating.

The D.H.89A was introduced into production in 1937. It featured small trailing-edge flaps under the lower main wing mounted outboard of the nacelles. Many earlier D.H.89s were later brought up to this standard.

Several Dragon Rapides were acquired by the RAF. K5070 was operated by No. 24 Squadron at Hendon in 1935 as a VIP transport. In 1938, P1764 and P1765 were acquired for communications duties. R2485, R2486, and R2487 were acquired as trainers.

Several Dragon Rapides were adapted for service on floats. The floatplane adaptations were performed by De Havilland of Canada, where they were fitted with Edo floats and a long dorsal fin.

Several Dragon Rapides were modified for service on skis. Most of these served in northern Canada.

There were even combat adaptations of the Dragon Rapide. Specification G-18/35 called for a coastal command and general reconnaissance aircraft for the RAF. A standard Rapide was fitted with a Vickers machine gun on the starboard side of the nose, a bomb bay for two 100-lb and four 20-lb bombs, one Lewis gun on a flexible mounting on top of the fuselage, extra cabin windows, and a long curved dorsal fin. A crew of three was carried, pilot, radio operator/gunner, and navigator/bombardier. A single prototype was built under the designation D.H.89M, and was assigned the serial number K4227. It lost out to the Avro Anson for production orders.

Three modified D.H.89Ms were delivered to Spain in 1935 for police duty in Morocco. A Vickers E gun was mounted in the nose, a bombsight was built into the floor, and twelve 27-lb bombs could be carried in a rack under the fuselage. The mid-upper gunner was provided with a Vickers F gun and a second gun fired downward through the floor. When the Spanish Civil War began in 1936, these planes saw combat on the Nationalist side.

In 1936, two further D.H.89Ms were built for Lithuania.

The last civil delivery before the outbreak of war was the 205th aircraft, intended for an airline in India.

After the war began, production continued as the D.H.89B Dominie Mk. 1 navigation trainer or Mk. 2 communications aircraft for the RAF. The Mk. 1 had a pilot and radio operator and could carry six passengers. The Mk. 2 had a pilot and eight passengers. At least six Dominies were made available to the USAAF Eighth Air Force in Britain between December 1942 and August 1944. They were operated as communications aircraft by the 27th Transport Group. By 1942, annual output at the Hatfield works was 185 machines, but since factory space at Hatfield was needed for the Mosquito, and Dominie manufacture was transferred to the Brush Coachworks Ltd. factory at Longborough. 346 more Dominies were manufactured there between 1943 and 1945.

Hundreds of Dominies were disposed of as surplus after the war. They joined the considerable number of pre-war Dragon Rapides that were already in airline service. The last RAF Dominies were finally declared obsolete in June of 1955, but a few were still on Admiralty charge as late as 1961. Ex-RAF Dominies ended up serving as communications aircraft by major British aircraft manufacturers, as pleasure craft, as charter aircraft, or as feeder liners in many parts of the world. The six-passenger version with pilot and radio operator was known as Mk. 2, whereas Mk. 3 denoted the alternative version for pilot and eight passengers. However, these designations were rarely used in practice.

Most postwar Dragon Rapides were powered by surplus RAF Gipsy Queen 3 engines rated at 200 hp each. Many Dragon Rapides were later retrofitted with 200 hp Gipsy Queen 2s driving variable-pitch propellers. This installation made it possible to increase the maximum takeoff weight to 6000 pounds, and gave a significant improvement in climb, cruising, and single-engine performance. These aircraft were known as Mk. 4s, and they could be identified by the presence of larger engine air intakes and variable-pitch propeller spinners. The first Mk. 4 prototype installation was performed in G-AHGF in 1953 by Flightways Ltd. of Eastleigh.

The Mk. 5 was a one-off modification performed in 1948 by de Havilland to its G-AHKA communications aircraft. Manually-operated variable-pitch propellers were fitted to special Gipsy Queen M.V.P. engines.

In 1958, a special fixed-pitch propeller was developed for the Dragon Rapide by Fairey Aviation. It imparted a performance increase similar to that offered by the Mk. 4, but without the cost and maintenance difficulties of the variable-pitch mechanism. Dragon Rapides modified in this fashion were known as Mk. 6.

Dozens of Dragon Rapides are still flying throughout the world. One of them appeared in the Agatha Christie Hercule Poirot mystery series shown on Mystery Theatre on PBS.

Sizes and weights

Total Length :

34.482 ft

10.510 m

Greatest height :

12.992 ft

3.960 m

Wingspan :

47.999 ft

14.630 m

Max take off weight :

5258.9 lbs

2385.0 kg

Performance data

Max. speed :

135 kts

250 km/h

Service ceiling :

19029 ft

5800 m

Range :

486 nm

900 km

Propulsion

Kind :

KRei

Type :

DeHavilland Gipsy Six

Power rating (max.) :

197 hp

200 ps

Count :

2

2

Total power rating (max.) :

395 hp

400 ps

Other

Crew :

0

0

2+8