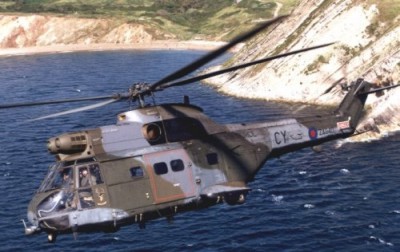 SA 330E Puma
First flown in April 1965 the French Sud Aviation SA.330 was designed to fill an Aviation Legere del l' Armee de Terre requirement for a medium troop transport helicopter.
The Puma was in production until 1984 and a total of 692 Puma's had been sold by the end of manufacture although they were still produced in Romania by IAR at the end 90s.
A growth version of the successful SA.330, the Super Puma first flew in September 1977. Fitted with twin 1330kW Turbomeca Makila 1A1 turbine engines, composite rotor blades, improved landing gear and modified tail fin, the Super Puma has been made in both short and long fuselage versions.

In 1990 all Super Puma designations were changed from AS 332 to AS 532 Cougar to distinguish between civil and military variants.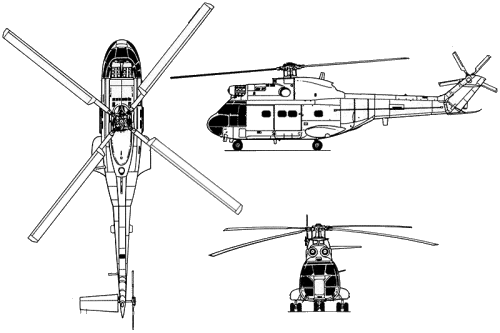 Variants
Puma
SA 330A: Prototype, originally named Alouette IV (F-ZWWN)
SA 330B: French Army 1st series
SA 330E: UK built, entered RAF service in January 1971.
SA 330C: Export
SA 330F: civilian
First major Upgrade: Turmo IVC engines
SA 330G: civilian
SA 330H: French Army and export 2nd series
Composite rotor blades and higher weights :
SA 330J: Export and some assembled by IPTN in Indonesia.
SA 330L: Export IAR330L: manufactured in Romania by IAR
SA 330Z: Prototype with fenestron tail rotor
Atlas TP-1 Oryx: Built in South Africa
Super Puma
SA 330R/SA 331: Super Puma prototype
AS.332B: Super Puma military version
AS 332C: civilian
AS 332F: naval fitted with 2 Exocet missiles
Stretched versions:
AS 332L: civilian
AS 332M: military

Cougar
AS 532: AS 332 new military version
AS 535: French Combat SAR RESCO

Eurocopter new designations
EC 225 : Super Puma civilian versions
EC 725 : Cougar military versions