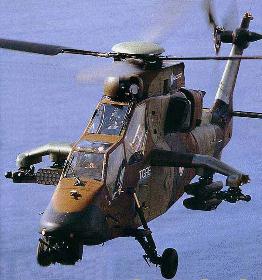 A join-venture of Aerospatiale and MBB projected at the end of the 70s and started in 1984 to provide an attack helicopter to the German ( PAH-2 anti tank variant ) and French Armies ( HAP / HAC escort variant )

Due highly costs, the program was cancelled in 1986 but was re-launched during 1987 and 5 prototypes were built. In the 90s, the demise of the Warsaw Pact threat, forced to Eurocopter look for the international market.
First flight of the aircraft was in 1991. Serial production began in March 2002 and the first flight of the production Tiger HAP for France took place in March 2003. France has ordered 80 aircraft (70 combat support HAP and 10 antitank HAC ) with deliveries to commence in September 2003.

Germany has ordered 80 UHT combat support aircraft with deliveries to begin by the end of 2003.
Total procurement is planned to be 120 for France and 120 for Germany.

In December 2001, Eurocopter, with the Tiger ARH (armed reconnaissance), was awarded the contract for the Australian Army's Air 87 requirement for 22 helicopters. The Tiger ARH is a modified version of the Tiger HAP with upgraded MTR390 engines and a laser designator incorporated in the Strix sight for the firing of Hellfire II air-to-ground missiles. The first Tiger ARH is scheduled to enter service in 2004. Australian Aerospace (a subsidiary of Eurocopter) is to set up a local production facility for assembly of the helicopters and the manufacture of parts for the entire programme. ADI Ltd will be a major subcontractor, responsible for customising the mission and communications systems.

In September 2003, Spain selected a version of the Tiger HAP combat support helicopter to be called the HAD which will be armed with the Trigat LR and Mistral missile systems. 24 helicopters will be ordered which will also have an uprated Enhanced MTR390 engine and a heavier payload. Deliveries are scheduled for 2007-08.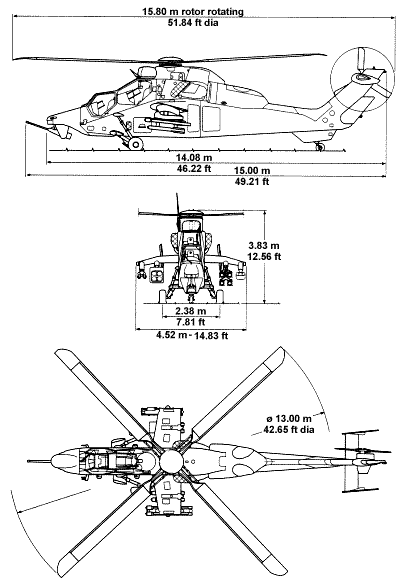 First Flight : March 27, 1991
Crew: 2

Type: Attack

Engines: 2 * 1280 shp MTU/Rolls-Royce/Turbomeca MTR390 turbine engines
Speed : 260 km/h
Rate of climb: 600 m/min
Endurance: 2 h 50 min
Weight: 3300 kg -- Max: 6000