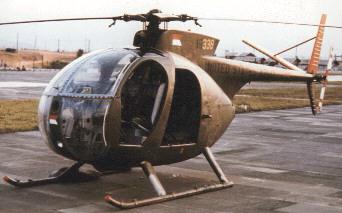 The Hughes (later McDonnell Douglas Helicopter Systems) OH-6 was originally designed to meet the needs of the US Army 's LOH competition, but it gave rise to a large family of commercial, corporate, and private helicopters. Light, nimble, and easily maintained, the MD500, as it became known, is designed to carry four or more passengers in a small but comfortable cabin. Many different versions have been built for both the military and civil markets for a variety of missions and requirements.
Was also built with license in Argentina by RACA, in Japan by Kawasaki , in South Korea by Korean Air and in Italy by Breda - Nardi

Latest version, equipped with a new rotorless tail that uses jet thrust rather than blades to give the helicopter directional stability, is called NOTAR (NO TAil Rotor). Without the noisy tail rotor, the NOTAR is one of the world's quietest helicopters.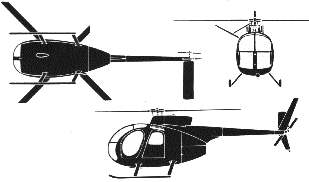 First flight: 27 February 1963
Nicknames: Cayuse, Loach, The Egg
Type: Light Observation Helicopter (LOH)
Crew: pilot, observer and 4 passengers
Engine: one 317 hp Allison T63-A-5A
Weight: empty: 524 kg max: 1224 kg
Performance: max range: 611 km ferry range: 3560 km max speed: 272 km/h
Dimensions length: 7.04 m height: 2.59 m rotor diameter: 8.03 m overall length: 9.24 m
Armament: one 7.62 mm minigun with 2000 bullets or a 40 mm grenade launcher with 150 rounds of ammunition.