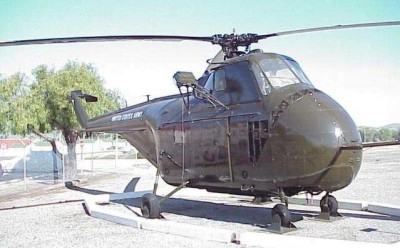 The UH-19B is a USAF version of the Sikorsky S-55, an aircraft used by all U.S. military services in the 1950s and 1960s. It was the first of the Sikorsky helicopters with enough cabin space and lifting ability to allow satisfactory operation in troop transport or rescue roles. The engine is mounted in the nose, leaving the main cabin free for passengers or cargo. The prototype was first flown in November 1949, and in 1951 the USAF ordered production model H-19s (redesignated UH-19s in 1962). After receiving 50 H-19As, the USAF acquired 270 H-19Bs with increased engine power. Many were assigned to Air Rescue squadrons as SH-19s (later redesignated HH-19s). For rescue service, a 400 lb. capacity hoist was mounted above the door. The aircraft also could be equipped with an external sling capable of carrying 2,000 lbs. During the Korean War, H-19s were used extensively for rescue and medical evacuation work. Other missions included observation and liaison. The H-19 flew the first helicopter combat airlift missions during the Korean War while serving with the U.S. Marine Corps as the HRS.
SPECIFICATIONS
Rotor diameter: 53 ft.
Fuselage Length: 42 ft. 4 in.
Height: 15 ft. 4 in.
Weight: 8,400 lbs. max.
Armament: None
Engine: Wright R-1300-3 of 700 hp.
Cost: $150,000
Serial number: 52-7587
Displayed as: 51-3893
PERFORMANCE
Maximum speed: 112 mph.
Cruising speed: 92 mph.
Range: 330 miles
Service Ceiling: 15,000 ft.