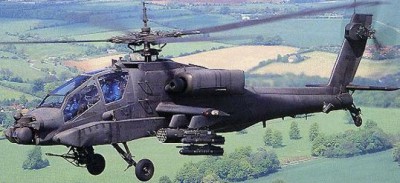 In 1973, the Hughes Model 77 was selected as the winner of the US Army's advanced attack helicopter ( AAH ) competition against the Bell 409 ( YAH-63 ).
The prototype made its first flight in 1975 as the YAH-64 , and in 1976 the company received a full-scale development contract. In 1982 the Army gave the program, now known as AH-64A Apache , production go-ahead. Deliveries of production Apaches began in 1984.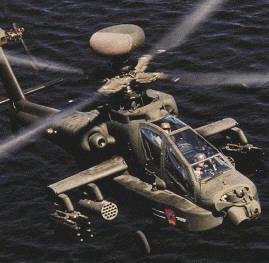 The AH-64D Longbow Apache designation was applied to near 600 upgraded AH-64A with 2 x 1800 hp T700-GE-701 turboshafts engines , the Westinghouse Longbow radar system for automatic detection and classification of targets and all weather fire-and-forget type weapons.
The Apache was also exported to Israel, Egypt, Greece, the Netherlands, Saudi Arabia, United Arab Emirates and the United Kingdom ( as WAH-64 to be assembly by Westland )
First Flight :
September 30, 1975
Crew : 2

AH-64A :
Mission: Attack Helicopter
Engines: 2 * 1536 hp General Electric T700-700 Turbine engines
Top Speed: 309 km/h
Range: 610 km -- Max: 1804 Km
Weight: Empty: 4657 kg -- Max: 8006
Rotor Span: 14.63 m
Length: 14.97 m
Height: 4.22 m
Disc Area: 168.11 m2